PETROVIC NJEGOS DYNASTY
1697-1918
SERB PATRIOTS
Danilo Petrovic Njegos (1697-1735)
Born in 1670. Metropolitan and ruler of Montenegro. The founder of the Petrovic Njegos dynasty. In the text written on the manuscript gospel, his gift to Serb Patriarchate of Pec, in 1732, Danilo proudly expressed himself as DANIL NJEGOS, THE BISHOP OF CETINJE, THE LEADER OF THE SERB LAND






Sava Petrovic Njegos (1735-1781)
Born in c. 1700. Metropolitan and ruler of Montenegro. When the Serb Patriarchate of Pec was, under pressure of Greek clergy, banned by Turks in 1766, in the name of Serb bishops Sava wrote to Metropolitan of Moscow, informed him that SERB NATION IS UNDER HARD SLAVERY and therefore asked Russian Holy Synod to help the restoration of Serb Patriarchate. He also asked Russian Empress to PROTECT SERBS FROM THE GREEK AND TURKISH INTRUDING and said WE ARE READY TO PAY RUSSIA IN BLOOD.
Vasilije Petrovic Njegos (1750-1766)
Born in 1709. Metropolitan and ruler of Montenegro. Ruled with Sava. He was convinced that Montenegro, with Russian help, has to play crucial role in the restoration of the Serb Empire. In his book "History of Montenegro", he listed Serb bishops and put himself above the others. In the "Ode to Nemanja", the founder of medieval Serb dynasty, Vasilije evokes Serb past with the words HOLY SERB KINGS ARISE, and adds SERB BISHOPS DO NOT SLEEP, BUT ENTIRE NIGHT PRAY TO GOD SERB EMPIRE TO RESTORE.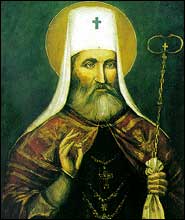 Petar I Petrovic Njegos (1782-1830)
Born in 1747. Metropolitan and ruler of Montenegro. During the Russian-Turkish war in 1807, Petar I Petrovic sent Russian General of Danube army a letter with the proposal to Russian Emperor about restoration of Serb Empire. According to the proposal, RUSSIAN EMPEROR WOULD BE RECOGNIZED AS THE EMPEROR OF THE SERBS AND THE METROPOLITAN OF MONTENEGRO WOULD BE HIS ASSISTANT. THE LEADING ROLE IN THE RESTORATION OF SERB EMPIRE BELONGS TO MONTENEGRO.
Petar II Petrovic Njegos (1830-1851)
Born in 1813. Metropolitan and ruler of Montenegro. The father of modern Serb national identity. The author of the most patriotic Serb epic "The Mountain Wreath". In the year of 1848, the Government of Serbia sent him the proposal of unification of Serbs, Croats and Bulgarians. Petar II Petrovic agreed but said THE SERBDOM HAS TO UNITE FIRST. I WILL, THEN, TO MY PATRIARCHATE OF PEC AND SERBIAN PRINCE TO PRIZREN. SPIRITUAL AUTHORITY TO ME AND SECULAR TO HIM, OVER THE NATION FREE AND UNITED.
Danilo Petrovic Njegos (1851-1860)
Born in 1826. He divided spiritual and secular authorities and became the Prince. His letters to Princes of Serbia, Aleksandar Karadjordjevic and Mihailo Obrenovic, and his deed, were always inspired with the idea of Serb unification - IN FRONT OF THE TENT I'LL SERVE THE KING IF SERBDOM WOULD BE EVER UNITED AND UNITY OF SERBS REACHED or LET PRINCE MIHAILO JUST START, I'LL JOIN HIM WITH MY MONTENEGRINS TO LIBERATE THE SERB NATION, WITH ME EVEN AS AN ORDINARY SOLDIER.
Nikola Petrovic Njegos (1860-1918)
Born in 1841, died in 1921. In 1910, he was proclaimed as a King of Montenegro. His entire political work was inspired only with one idea, the restoration of Serb Empire. He saw himself as a new Emperor Dusan, as a rightful descendent of medieval Serb Throne. The Great war (1876-78) was his revenge for the Kosovo battle in 1389. His message to Montenegrins in Herzegovina, in 1876, was UNDER MURAD I SERB EMPIRE WAS DESTROYED UNDER MURAD V IT HAS TO RISE AGAIN. THIS IS MY WISH AND WISH OF ALL OF US AS WELL AS THE WISH OF ALMIGHTY GOD.